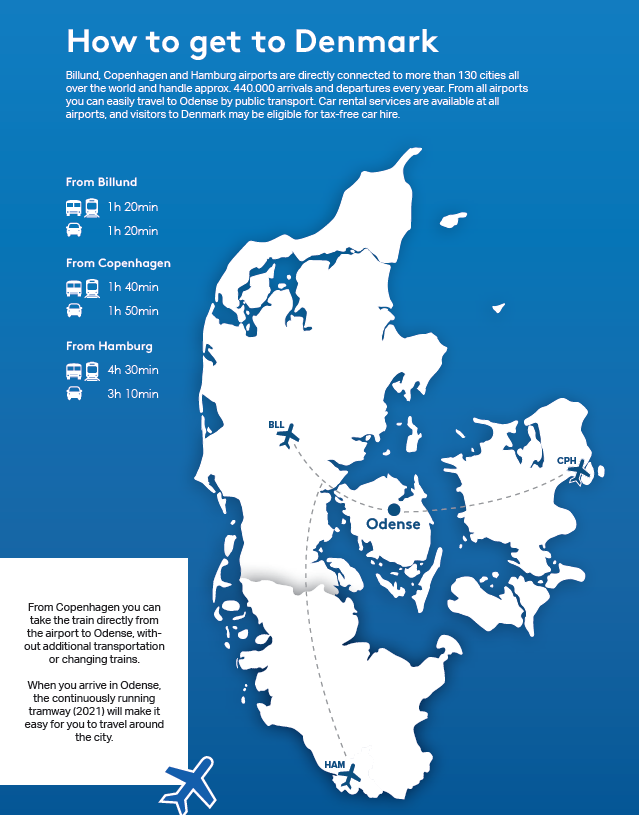 The City of Odense is well connected via rail, road and to numerous destinations worldwide via two international airports.
​Billund, Copenhagen and Hamburg airports are directly connected to more than 230 cities all over the world and handle approx. 440.000 arrivals and departures every year. Car rental services are available at all airports, and visitors to Denmark may be eligible for tax-free car hire.
From Billund Airport: 1h 30min by bus/train. 1h 20min by car.
From Copenhagen Airport: 1h 40min by train. 1h 50min by car.
From Hamburg Airport: 4h 30min by bus/train. 3h 35min by car.
Public transportation in Denmark makes it easy for the traveller to get around. Cities and towns have an efficient public transportation system.
See Rejseplanen for more information.
For buying train tickets from Copenhagen Airport (CPH Lufthavn) to Odense train station (Odense St.), please go to this website https://www.dsb.dk/en/
Accommodation
Odense has hotel capacity to suit every taste and budget. The
city currently has over 1,500 rooms at hotels alone and on top of that comes hostels, B&Bs and other types of accommodation. Most rooms are located in the heart of the city and within a 5-10-minute walk from the train station.
We have blocked a number of rooms close to conference venue – see more under hotels.